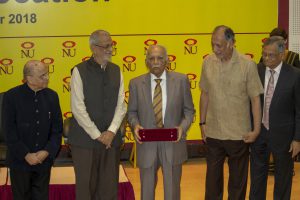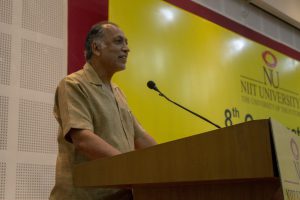 The NIIT University marked its 8th Convocation Ceremony with a solemn event held at its vibrant campus on 6th of October 2018. The Chief Guest for the occasion was Shri. Dr. K Kasturirangan, Former President – Indian Space Research Organisation (ISRO). The occasion also had Mr. Rajendra Pawar and Mr. Vijay Thadani along with Prof. V.S Rao, President NIIT University.
This year NIIT University graduated 171 Bachelors in Technology domain, 247 Graduates – Post Graduate Diploma in Banking & Finance, 14 Graduates – Master of Technology, 47 Graduates – Master of Business Administration.
The efforts and achievements of exceptional students were recognized and rewarded.
The 8th Convocation was special as our University awarded the first Honorary Doctorate to Sri F C Kohli, who is also known as the he 'Bhishma Pitamaha of the Indian Software Industry'. He is a recipient of the Padma Bhushan award by the Government of India for his invaluable contribution in the software industry.
Following students from various streams of study at NU were conferred with the Dr. Karan Singh Gold Medal for outstanding academic performance:
Mr. Karanjit Singh Gill (B. Tech: 2014-2018, Computer Science and Engineering)
Mr. Pratyush Kolli (M. Tech: Geographic Information Systems, 2016-2018)
Mr. Abhay Sharma (MBA:2016-2018, Business Analytics)
One of the most prestigious awards of the University, the Ram Rajindra Malhotra Medal was awarded to Ms. Nirali Sanjay Sampat (B. Tech:2014-2018, Computer Science and Engineering).