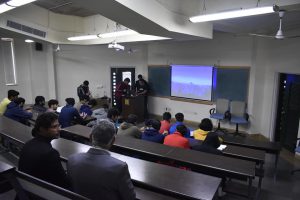 Certified Ethical Hacking (CEH) training for a batch of 25 students in the campus was completed in the duration of 4 months.
A five hour security bug disclosure event was organized in the campus with the help of Czar Securities. Five teams comprising of 3 students each participated in the event and disclosed several vulnerabilities in the given targets. Two best teams were sponsored through NU TAP to attend the DSCI Hackathon event in Pune.
The two teams were made up of B.Tech III students ((Shivam, Sourish, Moksh) and (Rahul, Smith, Anubhav)) who participated in the DSCI EY Pune Smart City Capture The Flag (CTF) event. The teams did well in their first interface to a real CTF.