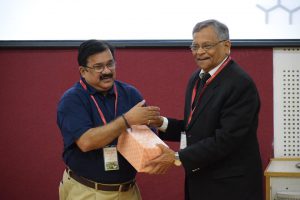 "In god we trust, all others must bring data."
-W. Edward Deming
Research and Innovation are the two driving forces of any economy. Be it any field, Research helps in identifying the areas where there can be improvement. Apart from improvement, research gives way to innovation and inventions. From providing unique solutions to complex problems to analyzing data and curating a thesis, research fuels development and growth.
NIIT University organized its second edition of The Doctoral Symposium on 6 – 7th April 2019. PhD Scholars from various universities across the country presented their researches on variety of topics ranging from Artificial Intelligence, Big Data, Data Science, Geographic Information System, Machine Learning, Network and Communication Systems, Cyber Security and Electronics and Electrical Engineering.
The event was inaugurated by Mr. Karan Bajwa, MD, IBM India. He explained about the increasing contribution of women in STEM. Dr. Lipika Dey, Principal Scientist, TCS followed with her presentation. Not only did she talk about using deep neural networks for reading textual content, she also addressed the young minds with a vision that Big Data, Data Science and Artificial Intelligence are all interdependent and how their scope is increasing with the advancement of science and technology. Mr. Rajesh Mathur, an advisor in ESRI India, shared his opinion on the topic of smart city which has seen development at an exponential rate. Few PhD aspirants presented their paper on remote sensing research solutions. The first day of symposium ended on a good note with an open discussion among experienced delegates which included Mr. Pradipto Chakrabarty, Regional Director, CompTIA, Mr. Shubham Chatterjee, SAS Head of Education and Academics, India, Dr. Lipika Dey, Dr. Arindam Sen, Director of HCL Technologies, Bangalore, Mr. Rajesh Mathur and NU President, Dr. V.S. Rao, and put forward their views on how the upsurge of AI in technological industry is going to affect the human labour and skills in near future. The second day started with a talk by Mr. P Rajendran, Joint Managing Director, NIIT Ltd. He interacted with the delegates and the students at the Listening Tree and explained the story behind NIIT, its philosophies and what they strive to be in the future. The PhD presentations commenced with an invited Talk by Dr. Debrup Chakraborty from ISI Kolkata who talked about different cryptography methods for Storage Encryption. Unlike last time, Doctoral Symposium offered PhD tracks for different fields. After Dr. Debrup's interesting talk, scholars who had researched under Applied Mathematics and Theoretical Computation, discussed their researches. From Social influence maximization problem to Image assessment, the scholars covered interesting topics and concepts that one usually comes across on a day-to-day basis. But among all the four presenters, Pritam Bhattacharya's research on the Art gallery problem was extremely fascinating. The art gallery problem inquires about the least number of guards that are sufficient to ensure that an art gallery, represented by a polygon P, is fully guarded. It was informed that in 1998, the problems of finding the minimum number of point guards, vertex guards, and edge guards required to guard P were shown to be APX-hard by Eidenbenz, Widmayer and Stamm. Not only that, researchers have also tried to find the complexity of the above problem by trying to solve it.
Following this, Dr. Dinesh Kumar, Professor, Decision Sciences & IS, IIMB, demystified analytics for us by taking us on an amazing ride where he gave us insights and examples to support the same. He told us how analytics helped them with the Traveling salesman problem that they encountered while they were trying to find a solution to food for the mid-day meal system. He commenced his talk by discussing the HIPPO Algorithm i.e. Highest Paid Person's Opinion, which clearly describes how without analytics corporate decision-making takes place. He further emphasized on the importance of multidimensional data and its effect on analytics and how businesses can actually benefit from better and efficient analytics solution. Before
Proceeding for a solution, one must understand the business. 'Ask the right question, if you are not asking the right question, you are solving the wrong problem' he remarked. He also tackled a burning question regarding whether one should choose a practical algorithm or an efficient one. He tactically replied that the most accurate algorithm might not be the fastest in practice; hence in most cases the algorithm that gets selected is usually an outcome of extensive decision-making. He ended his session on two notes. First, he left us a set of questions: Is analytics driving innovation? Is analytics providing alternative solutions? Is analytics efficient? Second, he made us understand how Natural Language Processing continues to be the greatest problem for analytics and how one should efficiently design a system to solve a problem. It was followed by the PhD track for AI, Big Data and Data science. The PhD Scholars under this banner targeted sentiment analysis, emotion analysis and how big data can be used to supplement research in Physics to name a few. EEG as a feature was set to identify the emotions of a person by exploiting the relationship between emotions and sentiments which was one such mind boggling thing. For the penultimate guest lecture, the university had invited Dr. Santhi Thilagam, Professor, Dept. of CSE, NIT-K-Surathkal. Dr. Santhi talked about Online Social Media Analysis, its challenges and issues and how vulnerable is our data on social networking sites. She also stated some motivating scenarios on the concept of influence maximization. Lastly, Dr. Rajeev Shorey, TCS Research and Innovation and the ex-president of NU presented with some interesting facts and figures on IOT, learnings in smart manufacturing, new techniques and metrics in IOT based industries etc.
– Siddharth Bisht