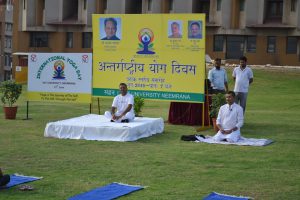 Fourth International Yoga Day was celebrated on 21st June 2019 at the lush green main lawn of NIIT University Neemrana. This function was an event organized jointly with Civil Administration of Neemrana hence this program was a Block level program conducted at NIIT university.
Event started with welcome address by Maj. Gen. A.K. Singh- COO NIIT University, where he  explained the vital role of Yoga in our life and how Yoga can help an individual in the long run. Mr. Ram Singh Rajawat- SDM Neemrana, addressed the audience briefly explaining the benefit of Yoga in our daily life and  also asked all to include Yoga in their daily life routine. Mr. Ajay Singh Shekhawat-SHO Neemrana and many other reputed personalities from Neemrana also participated in International Yoga Day-2019.
Dr. Hansraj Shukla (Block Nodal Officer) with the help of Mr. Chirag Tantra (Manager Ginni International, Neemrana) conducted the session from 7 AM to 8 AM and went through the yoga asanas as outlined in the 'Common Yoga Protocol'. All participants practiced different yoga postures under the guidance of the Yoga Guru enthusiastically. Yoga Guru also reminded everyone that, for a healthy life yoga should be practiced every day, A Sankalp was taken by all at the end of the session.
Prof. V.S. Rao – President NIIT University along with Local administrative officials, representative from many industries at Neemrana, residents of Neemrana, neighbouring community and students of NU actively participated in International Yoga Day-2019.
A "Train the Trainer" programme was organized by Dr. Shukla for the Principals and nominated Teachers of all local government schools of Neemrana Block on 20th of June,2019 at NIIT university Campus.
Vice President – Dr. Parimal V Mandke presented a Vote of Thanks to all participants. She also thanked Dr. Shukla, and Mr. Tantra for demonstrating the Yoga with Yoga postures in a flawless manner. NIIIT University Student Tanishq Saini was another excellent demonstrator for the Yoga postures at the event.
Dr. Mandke informed all the participant that YOGA in NIIT University is treated as an Activity Oriented Course (AOC) and Yoga club of NIIT University other than practising Yoga thrice every week, keeps on organizing various events to create the awareness and benefit of Yoga to others.
In the true NIIT University tradition, the entire group jointly planted a Pipal Tree this year, which was christened as "YOGA 2019". All participants were also delighted to see the progress of the Banyan Tree ("YOGA 2016") and Pipal Tree (Yoga 2017 and Yoga 2018) planted previously on this auspicious occasion.
Session was concluded with lemonade and light refreshment, which was appreciated by all.