'The Digital Path' – The 13th Annual Lecture by Mr K V Kamath at NIIT University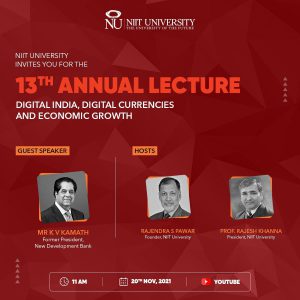 The Annual Lecture is one of the most sought after events at NIIT University where talks by a few of the most influential people take place. It has been a tradition at NIIT University for many years beginning with Dr Karan Singh. This year we had Mr Kundapur Vaman Kamath, Mr Rajendra Singh Pawar, Founder and Chairman of NIIT Ltd, Mr Vijay Thadani, Co-Founder and Vice Chairman of NIIT Ltd and Prof Rajesh Khanna, President, NIIT University. Dr Neha Tiwari, Assistant Professor, NIIT University, welcomed Mr K V Kamath with warm words. Prof Rajesh Khanna gave a brief analysis report of how the year has been for NIIT University.
 Mr K V Kamath is one of the most influential men in the banking sector, known for leading ICICI (Industrial Credit and Investment Corporation of India) as a Managing Director and Chief Executive Officer. During his leadership, he initiated a series of acquisitions of non-banking finance companies leading to the origins of ICICI Bank. In 2011, he was also appointed as the non-executive chairman of Infosys. His other leadership experiences include leading New Development Bank, set up by BRICS, as the first appointed chief.
Mr Kamath, having enormous experience in banking, had initiated computerisation and use of technology in the sector in the 1980s. He paved the way for the modern banking system that we have today. While the world shut down in 2020 post-March due to COVID-19, one specific sector that was making strides was the banking sector which witnessed enormous growth in the digital domain. This year the theme of the Annual Lecture was Digital India, Digital Currencies and Economic Growth, Mr K V Kamath called it 'The Digital Path'. Mr Kamath began his talk by first acknowledging the phenomenon of 'Receptivity for Change' or 'Acceptance to Change' which led to the digitisation and disruption in the sector. This phenomenon, he explained, is what drives any revolution ahead. The growth factor comes as a result of one's readiness to accept changes. He gave the example of the Indian masses that accepted this digital transformation. He then talked about the 5 Ds that are an integral part of this new era of Rise of Technology – Digital, Disruption, Demographic, Democratic and Dematerialised. While digital and disruption are few of the known parts, Mr Kamath had a personal spin on Demographic, Democratic and Dematerialised. Mr Kamath explained how a few decades back, technology was in the domain of youth and they were driving it, but today almost all ages have embraced the new technology. Needless to say, he gave this as an example of how the demography has changed. While democracy didn't seem like it would fit this conversation, Mr Kamath simply explained it as a phenomenon where technology was equally accessible to all irrespective of his/her background. This would then lead to the dematerialised aspect which means to computerise and digitise most accounts of details and reduce paperwork. This is an inevitable change according to Mr K V Kamath. He then described how we as a nation are entering the Digital Supercycle. He said that this too, again, is a change that is given and something to not argue upon. The pace at which we are growing, and the changes that we have embraced are testimony to the fact that the supercycle will come.
He then went on to explain how essential it is for us to build our economy on this digital supercycle. He gave the example of China which had 25-30 % of the economy being driven by the digital or technological space while India's economy was 5-7% driven by it. He explained the cycle that has been inverted now from getting Tech Teams to create technology for laypeople to instead gettingt the layperson to decide for themself as to which technology they would use. He exclaimed how far technology has come in changing lives. He elaborated with an example of YouTube, where content creators from villages have started to upload content, while YouTube also tries to increase its revenue by converting these consumers to products which creates a win-win situation.
He also briefly talked about Cryptos. He began with a reflection over a question of whether it is an asset or not. He explained that it was still in its infancy and advised caution around it. While players do exist in this domain too, the volatility and scams surrounding it are something to be careful about.
He then talked about how the Indian Economy is in for a good ride. Disruptions in technology that happened over the years have made it easier for the government to speed up the processes. One such example Mr Kamath gave was of the Chalan collection. A policeman would simply scan the number plate and process the challan by giving the people the option to pay it using UPI or by going to court. He ended his talk by expressing his optimism over how the Indian Economy is going to shape up. 
The talk was followed by a Q&A session. The panellists went ahead with their questions, followed by the questions from NUtons. Just like every year, the annual lecture ended up as a great event with fruitful knowledge and discussions.