An exclusive event for TALFers: An Outlook on TALF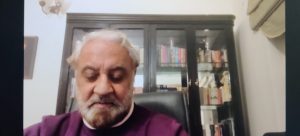 TALF organized an event on 27th October 2020 where all the TALFers interacted with the TALF advisors, Mr. Harpal Singh, Chairman Impact Projects Pvt. Ltd., and Mr. Rajendra S. Pawar, Founder, NIIT University. They talked about the idea behind forming The Asian Lenses Forum and what makes it unique.
Mr. Abhishek Dutta, the faculty coordinator of TALF, introduced Mr.Harpal Singh and Mr. Rajendra S. Pawar to the TALFers. The discussion started with how TALF would help in giving a new and positive perspective towards the world and to understand the diverse Asian cultures. They also talked about the growth of Asia and how it will have a strong impact on the world in the 21st century.
The discussion was followed by an interactive session where advisors clarified the queries and doubts raised by the TALFers from Batch 2020-24. One of the questions asked by a new TALFer was 'Why is Indian Culture so underrated?' To which, the advisors answered that the British tried to destroy all evidence of Indian history resulting in us not knowing much about our own culture, but yet remain fascinated by the Western culture.
The event was very informative, especially for the new TALFers as they understood the essence of TALF and it also gave them a vast area to explore i.e what is the importance of having various perspectives.