BW Wednesday Wisdom with Padma Bhushan Rajendra S. Pawar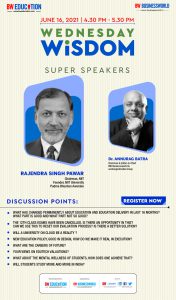 Laying down the path in order to aid future individuals who wish to follow in their footsteps is a part of what a true spirit of leadership highlights. We were able to witness this concept on July 16, 2021 where 'BW Wednesday Wisdom' welcomed Mr. Rajendra S. Pawar to share his views on humanity's change towards the "new normal" and how connecting the dots of education and technology can work wonders.
Mr. Pawar began by highlighting the changes made over the past couple of years that were the education sector had to fight the constraints and artificiality using innovation. The teachers boosted up their skills with the assistance of technology, moving out of their concerned subjects and comfort zones. Similarly, the students saw a major dependency on e-books and online videos for learning even the basics. Mr. Pawar assured that the impression of social interaction will last forever even though it is restricted for a temporary period. Through one's vision, identifying what one loves becomes crucial. As well as, analyzing what one loves means adding value to skills in all kinds of fields. 
Discussing the drawbacks, he mentioned his firm belief in having an easy transition from high school to college rather than a clueless phase for the young minds. Curricular, administrative, and financial freedom will help to pace up the growth of a child's future. Limiting the potential to subjects revolving around the course chosen should not be a barrier to excel in any other. 
Addressing one of the biggest aspects of education, he told students to not be afraid to explore options and choose suitable courses with "financial and passion comfort". He advocated for a comfortable environment that deals with physical and mental health to keep the individual strengths at their peak. Speaking about the rural segment, the centralization of technology to bring equality among youths is in progress for the nation with more opportunities to reduce the effects of "brain drain".
Mr. Pawar's talk reflected years of experience and his constant efforts to put his thoughts to action in the form of NIIT University. Policies and digital growth are the two pillars that build the foundation of upcoming India and transform it into a global power.