NU Faculty at DELNET Webinar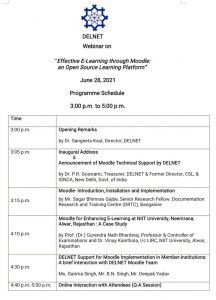 DELNET (Developing Library Network) is a network of 7227 libraries across India and abroad. They had invited Dr. Gurendra Nath Bharadwaj and Dr. Vinay Kumar Kainthola as panelists for the webinar on 'Effective E-Learning through Moodle: An Open Source Learning Platform'. The webinar was conducted on June 28th, 2021, with Mr. Sagar Gajbe, DRTC, Bangalore as one of the panelists.
Dr. Kainthola gave a brief introduction about Moodle and shared the process of using Moodle for the library. Dr. Bharadwaj had presented the case study 'Moodle for Enhancing E-Learning at NIIT University, Neemrana, Alwar, Rajasthan'. In the case study, he discussed the methods of E-Learning used at NIIT University and highlighted the need for digital transformation in academic institutions across the globe. 
He explained further about the strategies that enabled NIIT University to conduct fair and transparent online examinations and get them evaluated in under 40 days. He highlighted the fact that 99% of students could give the examination despite the nation suffering from 2 cyclones apart from the pandemic. He discussed the challenges that occured during online assessment and also discussed the ways to overcome them with supportive staff and faculty. It was a rather very informative webinar that was attended by 322 professionals.