CAMPUS RECRUITMENT FOR INDUSTRY PRACTICE
BigBasket
BigBasket, on 12th September 2020, considered Akshit Sarin, Anirudh Verma, Himanshu Nikhre, Piyush Katoch, Pragya Datt, Shardul Thakre, Shruti Sharma, Shubhakar Dhruv, Jasti Pranay Chowdary, Shetty Vikrant, Vaibhav Goel, Vista Vincent, and Bandi Lasya Praharshini for Industry Practice. Further, they will be converted into full-time Software Engineer Developers based on their individual performances.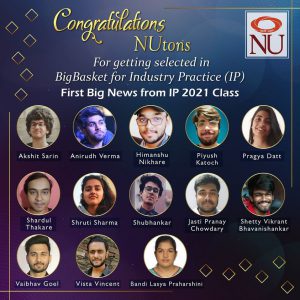 ZScaler
Zscaler conducted the recruitment tests where Penigalapati Sai Kumar, Pragya Kapoor, Shivam Thakrani, Kaustubh Kishore, Koduru Ramanjaneya Subhakar, and Lakhini Jagdish got selected on 25th September 2020 for the Cloud Security Posture Management role.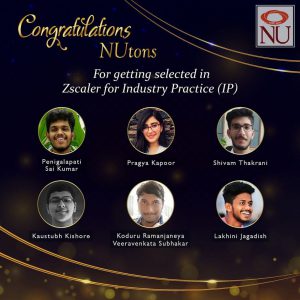 Dataphi Lab
Two students, Pushpender and Krishna Akash were selected for their Industrial Practice program at Dataphi Labs as interns for the role of Full-stack Developer on 4th October 2020.
Benzara E-Commerce Pvt. Ltd.
Benzara E-Commerce India Pvt. recruited Shreesh Goel for the role of Research Consultant from NIIT University on 6th October 2020.
NABLE IT Consultancy
Nable IT Consultancy selected Arushi Sehgal for the Industry Practice program as a software engineer on 7th October 2020.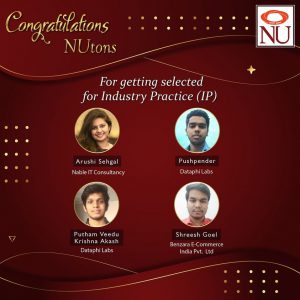 Zest IOT
Akash Chakraborty was selected for his Industrial Practice Program by Zest IOT for the role of Embedded IOT Engineer on 11th October 2020.
Thoucentric Technology Pvt. Ltd.
Thoucentric conducted recruitments on 15th October 2020. Six students, Shaurya Srivastava, Rishikesh Kumar Singh, Ananya Joshi, Navneeth Krishnan, Aaryamann, and Mohnish Magesh got selected for the role of Data Scientist, one each for the roles of Platform Engineer and Full Stack Developer.
Ahoy Systems Pvt. Ltd.
Ahoy Systems Pvt. Ltd. recruited three students, Tanishq Saini, Rahul Singh Rawat, and Anurag Paul for the role of Embedded Hardware and Software interns from NIIT University on 20th October 2020.