SAMVAAD: Let's talk about it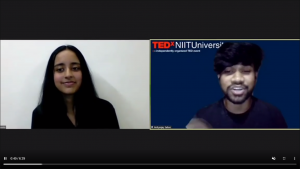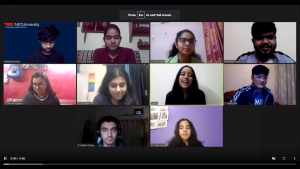 On January 24, 2021, TEDxNIITUniversity held a completely online pre-event focused on the sensitive topic of mental health. This event was graced by Mrs. Saniya Bedi, a psychologist with years of experience, who has been a constant advocate of self-care and the importance of mental health. Mrs. Bedi talked about the ever-important topic of mental health and provided the attention the topic deserves, going through a long and serious conversation discussing the dangers of neglecting one's mental health, hence helping her audience learn, as well as feel comfortable in their space. Each answer she provided to any questions asked was seeped in her experience and knowledge, as her pragmatism and professionalism were clearly visible in her answers.
Alongside her were singers Rusabh Jain, Ritvik Sikka, and Keerthana Reddy (B. Tech Batch 2018-22), who provided to this event, a melodious note of beauty. Each of the singers showed their natural and practiced talents on stage as they provided the assemblage with mesmerizing performances. Each of their voices vividly voiced the grasp of their own magical tones and lyricism. They provided a harmonious and soothing break to serious and engaging dialogue. Together, each singer performed in their own way of a masterpiece, hence keeping everyone in the audience exuberant.