Levity @ 47.601147, 25.866496
It was my longstanding wish to eat authentic Bengali food. The only way I could was to travel to the Kolkata and its suburbs. A good 18 hours of air travel, one-way, and poorer by € 1000.
I had read about popular chefs who had made their mark in the arena of Bengali Cuisine. Chef সুশান্ত সেনগুপ্ত  (Sushanta Sengupta) of the 6 Ballygunge Place fame, Chef মধুমিতা মোহান্ত  (Madhumita Mohanta) of Lalit Great Eastern and of course Chef সুবীর দেব (Subir Deb) of Oh Calcutta.
Being a poor hunt-the-next-scoop reporter at Bucharest, I could not dream of making a visit to the famed Ballygunge Place. The trip was bally expensive.
Exploring Indian restaurants at Bucharest never satisfied the urge for Kosha Mangsho – Mutton Curry, Aloo Posto – Potato with Poppy, Chingri Malai Curry – Prawn Cream Curry  and  of course the famed Misti Doi  – Sweet Curd – the king of deserts.
The nearby Kumar's Agra Palace had a mixed fare and frankly, I was a bit bored. I had been there at least a dozen times though I must agree that it was a great place for those new to Indian food. I asked around and I learnt that good Indian food was surely available outside of Bucharest. An Indian couple were supposed to be good and known to serve authentic Bengali food in the Romanian countryside. However their whereabouts was still a mystery.
I searched around for more details but drew a complete blank. For about three months, I became deeply involved with my work. Then one day, I had a break.
The Indian Cultural Festival under the aegis of the Indian Embassy was presenting a dance drama on the June 8, at the Peasant's Museum. The dancer, Kaberi Chatterjee under the guidance of director Obhi Chatterjee was going to perform the show that was adapted from Tagore's interpretation of the story relating to Chitrangada.
My office had organized me a press pass for the program to enable me to attend the program and conduct some interviews with the audience and some delegates.
On the day, I went earlier than the scheduled time to catch some of the audience who may have come in earlier and probably have time to spare.
On entering, I thought I heard a familiar drawl and turned around to see an old friend of mine. Ambasi with whom I had spent time in a well-known institute at the 23rd  latitude. Someone had told me a while back that he was comfortable ensconced in the neighbouring country – some 850 km and 8 hours away as a Dacia Logan would fly if it could.
He too was a foodie and I thought he might assist me in the search for an authentic Bengali meal. He told me that it was possible. He said that a close friend of his ran a small place in the Romanian countryside. They were excellent cooks and he said he could vouch for their authenticity and style.
He said he would check on the friend's availability and help fix an unforgettable experience at their place.
The dance drama went on I was once again involved in my official duties. Dignitaries both Romanian and Indians spoke at length and after a long evening, I returned to my studio apartment off Strada Alexandru Moruzzi Voievod.
True to his word, Ambasi sent me the information I had wanted. Arnab and his wife Sanghamitra were excellent cooks. Both well versed in the culinary arts, they had set up a small place next to a local monastery just 5 km of Gura Humorului.
He also informed me that both Arnab and Sanghamitra would very happy to host me at their place. Their restaurant was a small one and not yet named but it was very near to Pensiunea Maridor.
I called Arnab and profusely thanked him for generous offer. I told him I looked forward to a real treat of a good authentic dinner. He said he was looking forward to my visit and hoped that I would make his place a popular one since I was a reporter and all that.
From the conversation, I understood that Ambasi and he were close friends.
I had two options to reach Gura Humorului.  On road via DN3/E85 around 453 km and a good 7-hour drive. It would be a long drive. The other option I had, was to fly to Suceava and on the road from there on to Gura Humorului. It would take only 3 hours. The flight option looked attractive but I decided on the road.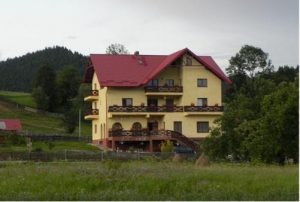 from: – http://www.inbucovina.ro/cazare/manastirea-humorului/pensiunea-maridor/
It was an uneventful journey and except for delay due to road works at Glodeanu Sarat, Golești, Cordun and Comuna Drăgușeni, I made it in 8 hours. I checked in at the local hotel Pensiunea Maridor by 2 pm on the Saturday and went exploring local pub for some Țuică.
For the uninitiated, it is the traditional Romanian spirit made from plums. A bit early in the season for the fresh produce, I could have only those made from last year's plums.
I retired for the night. Brushed up on my Bengali. Polished up some conversation pieces relating to food, theatre, movies and a bit of sport as well.
I was to spend the Sunday with Arnab and his wife. I had bought some wine and flowers for the couple as the tradition dictated.
The next morning, there I was with the flowers, wine and big smile on my face I went to Arnab's place and was welcomed into a living room. Filled with books on all culinary items and a traditional Indian complete with a dancing Nataraja idol and couple of elephants that reminded me the photographs I had seen on brochures from God's own country!
Arnab and Sanghamitra were very courteous and there before me were many items. All vegetarian snacks and coffee! Arnab said – "Ambasi told me that you are very excited by vegetarian food especially from Kerala and Tamil Nadu. I hope you like them."
I was flabbergasted and I was cursing Ambasi for the cruel trick he played on me!
"How the hell do I tell Arnab that I had really looked forward to Bengali food?"
I silently tucked in the food offered and I was deeply upset. I felt I should immediately take the Dacia Logan and kick the posterior of Ambasi –  in the softest parts.
"Would you be interested in some history?" – I came out of my reverie and Arnab repeated his question.
"Oh! Yes" I mumbled; glad to get away from the place.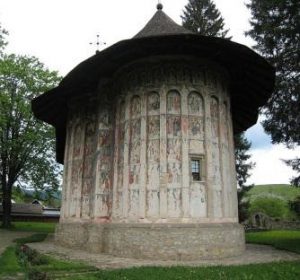 The Monastery
Arnab and Sanghamitra took me to the local monastery one of the few remaining ones under the class of painted monasteries. We spent an hour looking at the intricate paintings and understading the rich culture that they depicted.
Deep inside I was still upset and looking forward some Bengali food that did not look appearing at all.
Then Arnab said he wanted me to be the guest of honour for the naming ceremony of his restaurant. He said, "You are our guest. We would like you name our restaurant."
"I did not get Bengali food not even a spoonful of Misti Doi , and I have to name the restaurant?" These thoughts were running through my mind – obviously, I was still upset.
He said he would pick me up at 3.00 pm for the naming ceremony and he dropped me off at Pensiunea Maridor.
Promptly at 3.00 pm, he drove in at the hotel. I was ready and I went with Arnab. As I sat in the car, I noticed an envelope address to Arnab.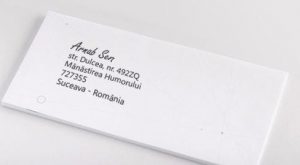 Until then I had not known Arnab's full name.
We arrived at the restaurant and there were about a crowd of around fifty. Arnab took me into the restaurant and there he gave an envelope and said "Please find the special menu for today's dinner."
My hands trembled as I opened the envelope. Out came the menu. In ornate gold letters, I saw all the Bengali items I had wished!
I was surprised. Even more when Arnab guided me in the interior of the restaurant and showed me the spread that awaited me.
Then Sanghamitra came in with a book and asked, "What name have you come up with for the restaurant?"
It was my turn to feel guilty. Gone were the curse words that I had still reserved for Ambasi. I had to come up with a good name … and very fast at that.
I looked at Arnab and Sanghamitra and smiled to myself.
I said, "I would like to name it as – The Sens of Humor"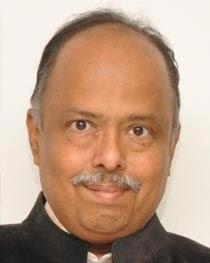 By Prof. Eswaran Narsimhan